INVEN CAPITAL, CEZ Group's investment fund that seeks opportunities in the new energy sector, is entering the Israeli start-up market. The Driivz platform, which is used by 300,000 drivers worldwide, offers an end-to-end electric vehicle (EV) charging infrastructure management solution. It is the fund's eighth overall investment into the 'new energy' sector.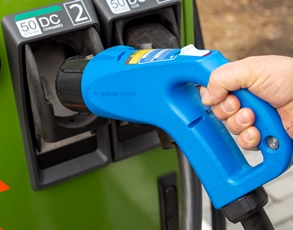 Based in Tel Aviv, Driivz has developed a modular system for managing charging station networks, providing a wide range of services for both charging infrastructure operators and EV users. The system offers the management of charging at public stations, including automated self-healing features, optimisation of energy flows from the distribution grid, management of user accounts, invoicing, and the support for charging at households and businesses, etc. The platform is compatible with around 80 of the most commonly used charging stations around the world.
In the current USD 12 mn financing round INVEN CAPITAL joined the renowned investors Centrica Innovations and Ombu Group and will have a representative on the Driivz board of directors.
"The Israeli market is literally full of interesting tech companies, and we've had a spotlight on it for the past few years. The dynamic growth of the EV market and rapid development of charging infrastructure needs robust and reliable systems to manage charging, including optimisation of occupancy and energy offtake," explained Petr Míkovec, Managing Director of INVEN CAPITAL."Combined with our earlier investment into the Vulog car-sharing platform and an extensive programme offering solutions for electromobility across the entire CEZ Group, we expect the new investment to bring interesting synergies benefitting CEZ customers in the future."
There are currently about 2500 electric vehicles operating in the Czech Republic using just under 300 professional public charging stations. "These figures will rise sharply, in line with the trend in Western Europe, where the number is expected to reach one million stations by 2025. The demand for electricity and load on the distribution grid will rise accordingly. The Driivz comprehensive charging infrastructure management solution, which has a superior performance proven with the largest global charging infrastructure operators, will help to manage this growth," added Michal Mravec, Investment Manager at INVEN CAPITAL.
"We are excited to welcome INVEN as our newest investor, and believe we are now well positioned to continue to deliver on our promise of developing leading innovative solutions for the EV charging industry" Said Doron Frenkel, CEO of Driivz. "Driivz is committed to leading the energy revolution by empowering EV service providers and Utilities to use the electrification of transport as a balancing tool to enable more efficient power utilization."
In more than three years of activity and investment into energy start-ups, INVEN CAPITAL has gained a reputation as a qualified and capable investor that supports developing companies in the 'new energy' sector. A high-quality management team, portfolio of investments, fund performance and successful course of due diligence led to EIB's decision to create a joint investment structure with INVEN CAPITAL, under which EIB committed EUR 50 million for investment by INVEN CAPITAL. However, given the location outside the EU, the latest investment is exclusively an INVEN CAPITAL project.
Israel is one of the most technologically advanced countries in the world, particularly in software, smart mobility, cybersecurity, communications and natural sciences. The volume of trade between the Czech Republic and Israel amounted to CZK 30.7 billion in 2017 (3.7% y-o-y growth), with a strongly positive trade balance (CZK +17.7 billion surplus). There have also been several inter-governmental consultations between the Czech Republic and Israel emphasising cooperation in new areas, including cybernetic security, science, technology and innovation.
INVEN CAPITAL is the CEZ Group's venture capital fund supported by the European Investment Bank (EIB). EIB financing uses funds from the European Fund for Strategic Investments (EFSI). INVEN CAPITAL's strategy is to seek opportunities for investing in smaller, innovative and growing smart energy businesses. It primarily focuses on later-stage growth investment opportunities with sound business models demonstrated by earnings and long-term growth potential. INVEN CAPITAL's goal is to generate long-term value through active collaboration with the companies it invests in and to actively support organic or acquisition-based growth strategy. Companies in INVEN CAPITAL's portfolio can take advantage of the CEZ Group's extensive expertise in the energy sector, its client base, and technology synergies for their further development. The fund is a full member of Invest Europe (https://www.investeurope.eu – European Private Equity and Venture Capital Association) and CVCA (http://www.cvca.cz – Czech Private Equity and Venture Capital Association).
INVEN CAPITAL's first investment in 2015 was into the Bavarian company sonnen, a global leader in producing intelligent battery systems for household energy storage. This was followed by the acquisition of shares in German companies Sunfire (which develops and launches industrial production of the most advanced energy technologies based on fuel/electrolyte cells for reducing CO2 emissions and developing decentralised sources) and tado°, a European leader in the field of smart thermostats. In 2017, investments were made into the Germany company Cloud & Heat Technologies, which uses heat from decentralised data centres to provide energy, and the French company Vulog, which is a major global player in producing technological solutions for ecological car-sharing. The year 2018 saw the acquisition of a share in the French Cosmo Tech platform, which develops software platforms for optimising management decisions. Some of the solutions created by these companies have in the meantime appeared in the CEZ Group's offer to customers.
Martin Schreier, Spokesman